Play this game on your mobile phone!
No apps required. Simply visit m.flyordie.com on your phone's browser, and you're good to go!
Jednostavne upute za igru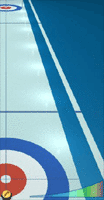 1. Pomaknite metlu na vrh za određivanje smjera.
2. Pritisnite I držite lijevu tipku miša za željenu snagu.
3. Otpustite tipku miša za bacanje (pratite indikator snage na dnu)
Što je Vijanje? Vijanje je zimski sport koji se igra na duguljastoj ledenoj plohi "bacanjem" čunjeva sa jedne strane klizališta na drugu. Možete igrati ovu sjajnu igru I u svom web-pregledniku!
Često postavljena pitanja