Play this game on your mobile phone!
No apps required. Simply visit m.flyordie.com on your phone's browser, and you're good to go!
Kurze Anleitung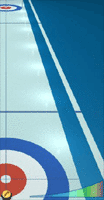 1. Richtung mit Hilfe der Maus einstellen.
2. Maustaste lange drücken um die Geschwindigkeit zu steigern.
3. Maustaste loslassen um den Stein abzugeben.
Curling ist Spaß und Sport für Jedermann! Du kannst deine Spieltechnik hier perfektionieren.